Professional: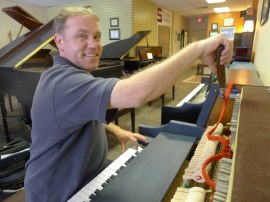 I attended four semesters of piano at Glendale Community College and completed a two semester course on Piano Tuning and Repair. I studied under Gary and Alice Miles and learned the basics of piano repair including tuning theory and regulation. After finishing the course I worked for Schroeders regulating and tuning floor pianos. I then started my apprenticeship at Craftsman Piano Restoration under Micheal Alosi refinishing pianos. I learned to do high end finish work and touch up which I continue to do to this day. I worked for two years doing finish work and over three years regulating and rebuilding actions. I also learned to do pinblocks, restringing, bridge repairs and assisted in complete rebuilds including installing new soundboards.
I was then hired on at AZ Piano and worked there for 5 years doing floor tunings, regulations and minor rebuilding. I also began to do volunteer work for the guild and have given classes for our local chapter which included classes on keyframe bedding, restringing, finishing and touch-up, soundboard repairs, ivory keytop repairs and noisy actions. I enjoy giving classes and look forward to giving more.
In December 2012 I began working for Stilwell Pianos, a piano store near my house. I worked there five years and helped Stilwell build their online school for piano technology. The PTA has helped many become Piano Technicians. I've worked for many piano stores through the years but I'm currently fully independent.
I stay busy working on pianos both in my shop and in customers homes. I have been a member of the Piano Technicians Guild for 12 years and an RPT, or Registered Piano Technician, for 9 years. I have been lucky enough to be able to study with Jim Coleman Sr., who helped me pass my RPT exams aurally, without the help of a machine. I still tune by ear but use an ETD as a tool to check my tunings.
I am extremely grateful to be working in a field that I love. Over the years I've met many excellent technicians and consider myself lucky to have learned from some of the best. In the future I look forward to advancing myself further by attending classes, seminars and conventions. The Piano Technicians Guild offers great opportunities for learning with world renowned technicians teaching and offering advice.
Personal:
I have lived in Arizona most of my life. My mother was raised here and my grandparents moved here in the 1950s from Wisconson. I love to fish and play golf and Arizona has plenty of oppurtunitys for both. One of my favorite spots in Arizona is the White Mountains.
I was born in Muskogee, Oklahoma and moved a lot as a child. I've lived in many different states including New York, Pennselvania, Ohio, Colorado and Florida.
In 1990 I moved back to Arizona and started High School. I graduated from Cortez Highschool in 1994 and immediately wanted to learn to play piano. I started classes at Glendale Community College and received my A.A. degree from P.V.C.C. I am eventually going to go back to school and get my Bachelors Degree.